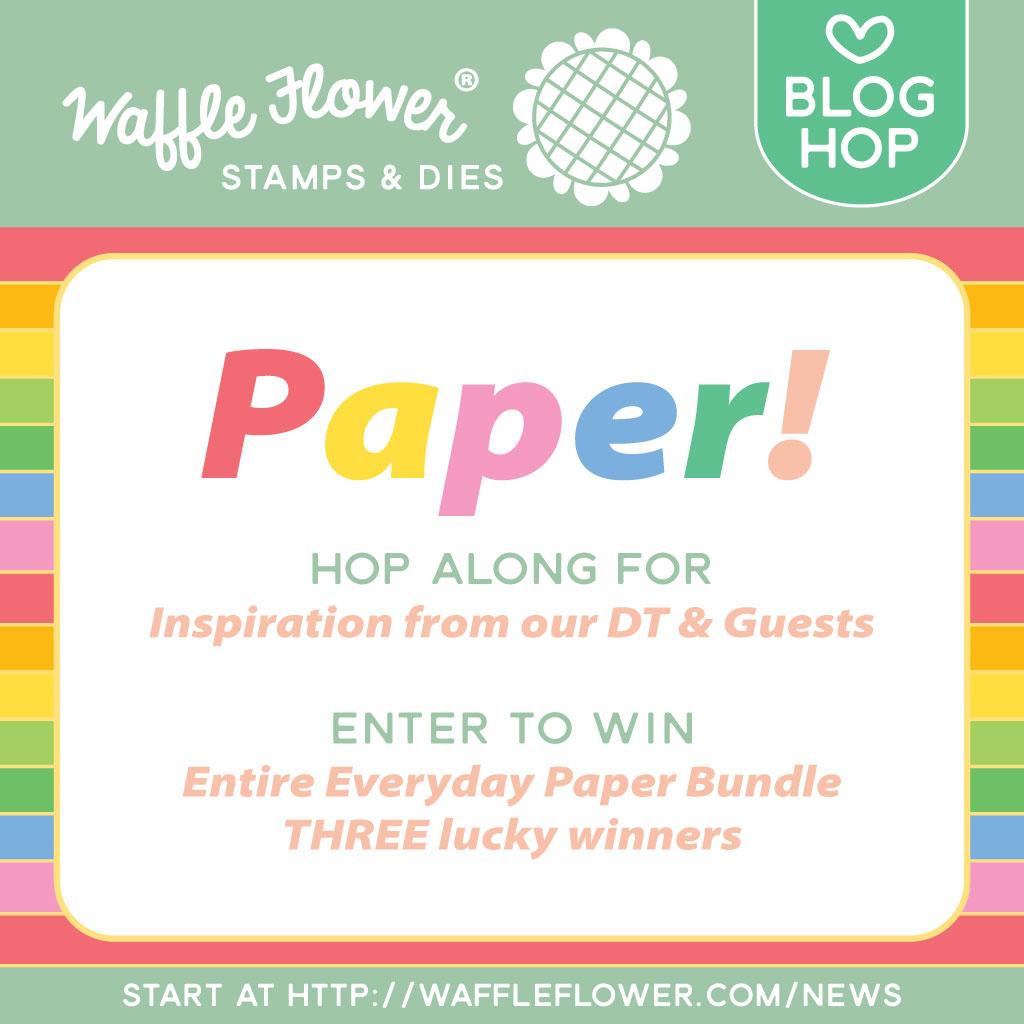 Waffle Flower now offers pattern paper! These papers are designed by cardmakers, so expect to see some new and innovative approaches!
For example, Waffle Flower paper pads measure a generous 5.5 inches by 8.5 inches (half-page of US Letter size). They settled on this size to give cardmakers more paper and less waste! Simply fold each page in half to make a standard landscape A2 card. Or trim a page in half to make two A2-sized card fronts. This larger size can also be used for A7-sized cards (5″x7″). The beauty of our unique page sizing allows us to have half-half designs. For more details, visit their
 paper introduction page here
.
For today's Blog Hop, I have 6 cards using papers from 6 different paper pads from this release. Let us take a look.
<Card 1>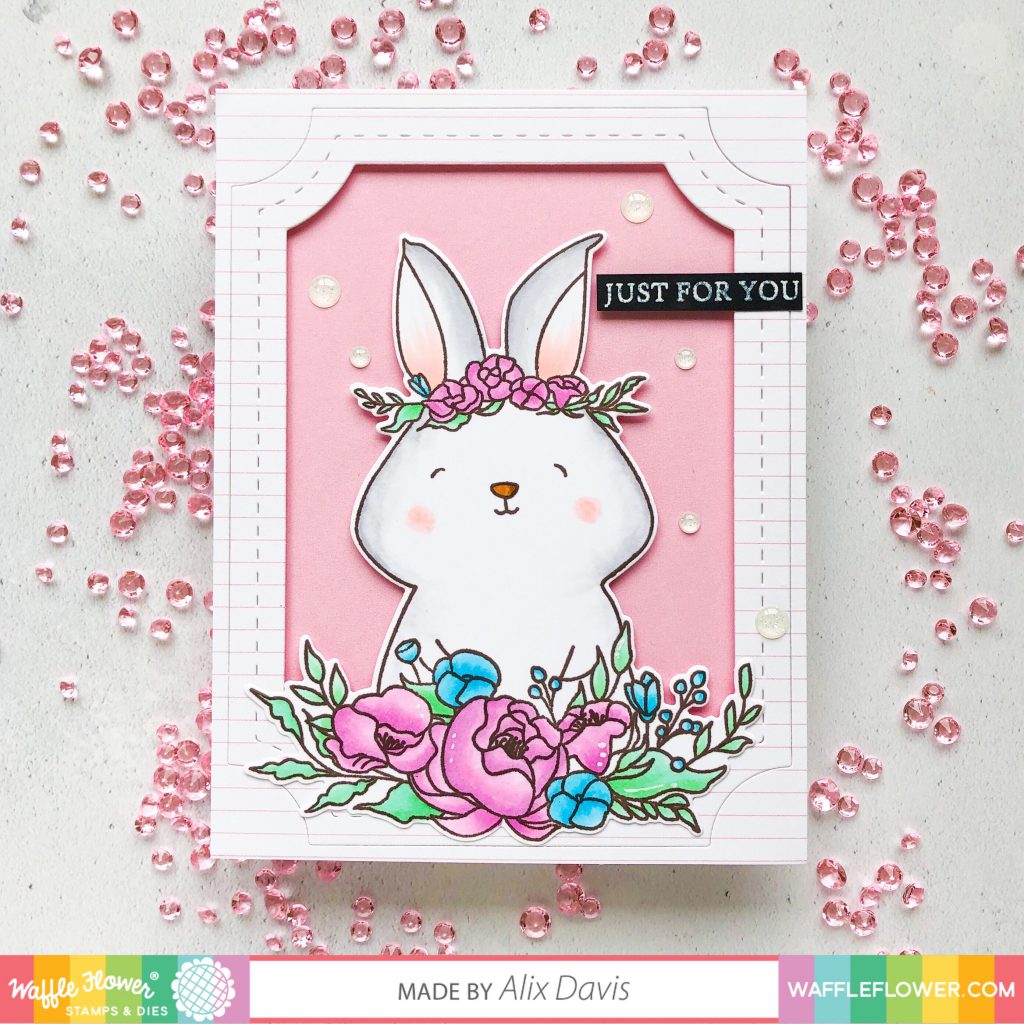 To begin with my first card, I created the background with frame using Ticket Frames Die out of a piece of paper from Half-Half Lines – Unicorn Paper Pad I attached the top frame onto the solid pink background using foam tape.
I stamped the images from Rejoice Rabbit stamp set and die cut with the Matching Dies. Then I colored it with copic markers. After I attached the image onto the background, I stamped the sentiment "Just for you" that comes from the same stamp set onto black cardstock and white embossed it. I hand cut it into a piece of skinny rectangle shaped paper and adhered it to the upper right corner of my card. At last, I added enamel dots from Stardust Enamel dots to finish the card.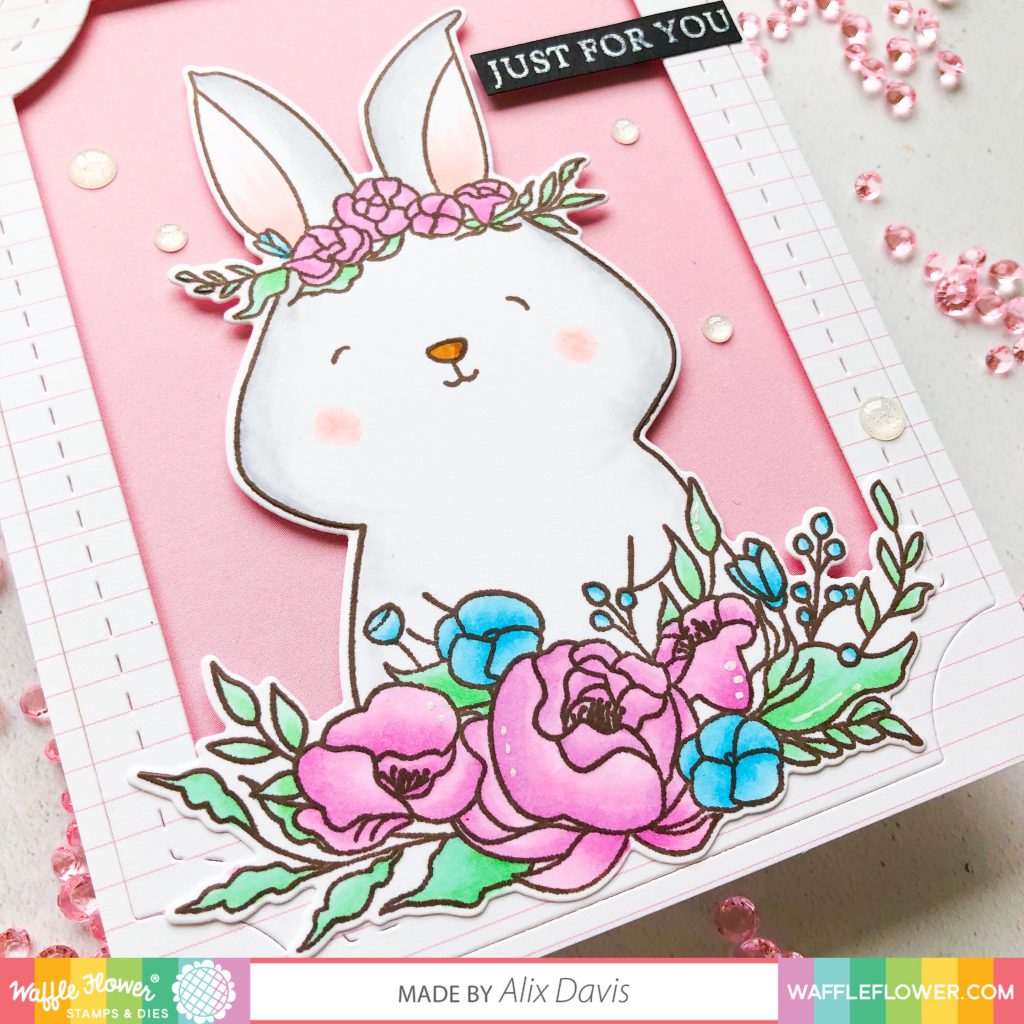 <Card 2>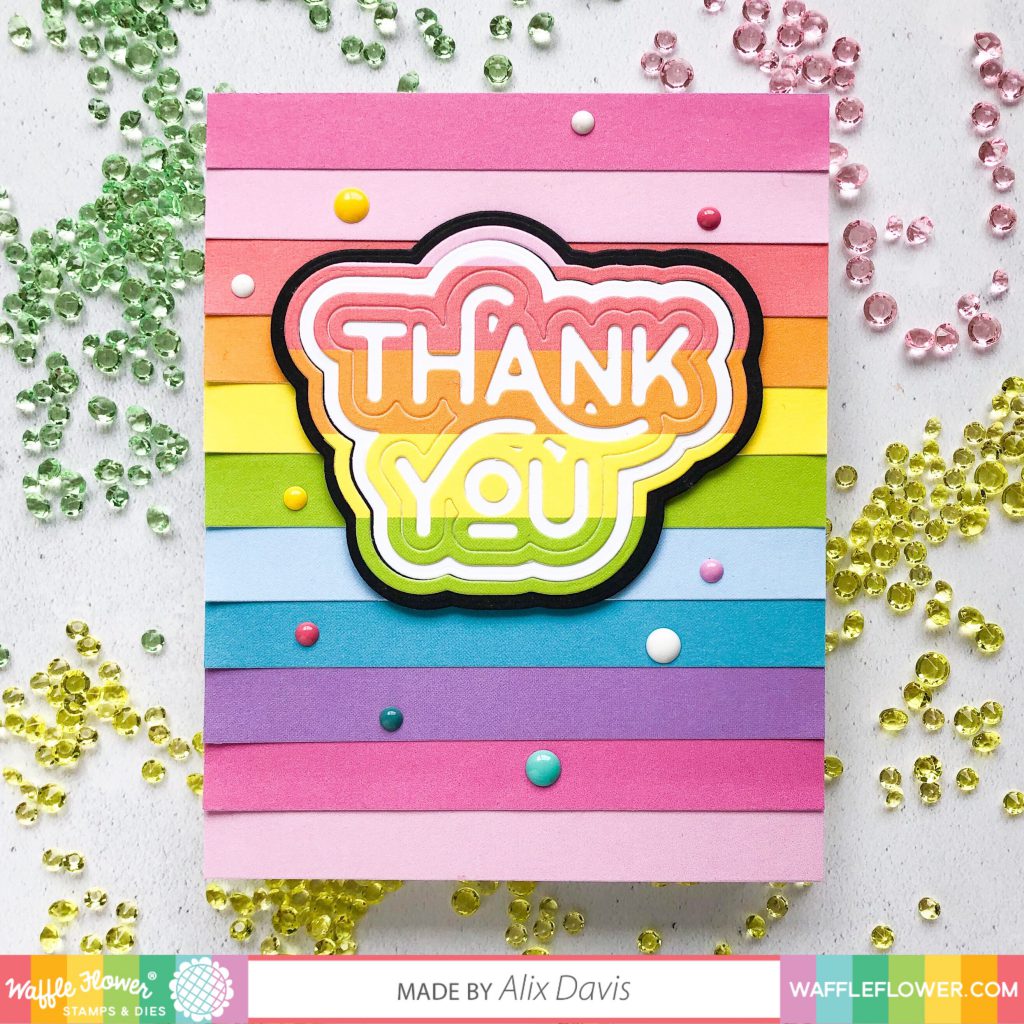 Everyone loves rainbow.Right? I just cannot have enough with rainbow colors. I chose a piece of cardstock paper from JJ's Rainbows Paper Pad Then I die cut all color stripes using Horizontal Stripes Die which makes the process goes very easily. I overlapped each stripes a little bit and attached onto an A2 sized card base. I chose Thank You Rainbow Die cut as my focal point of the card. To assemble the center piece, I used black, white and the rainbow stripes paper. And of course, I added my favorite color coordinating enamel dots from Up & Running Enamel dots.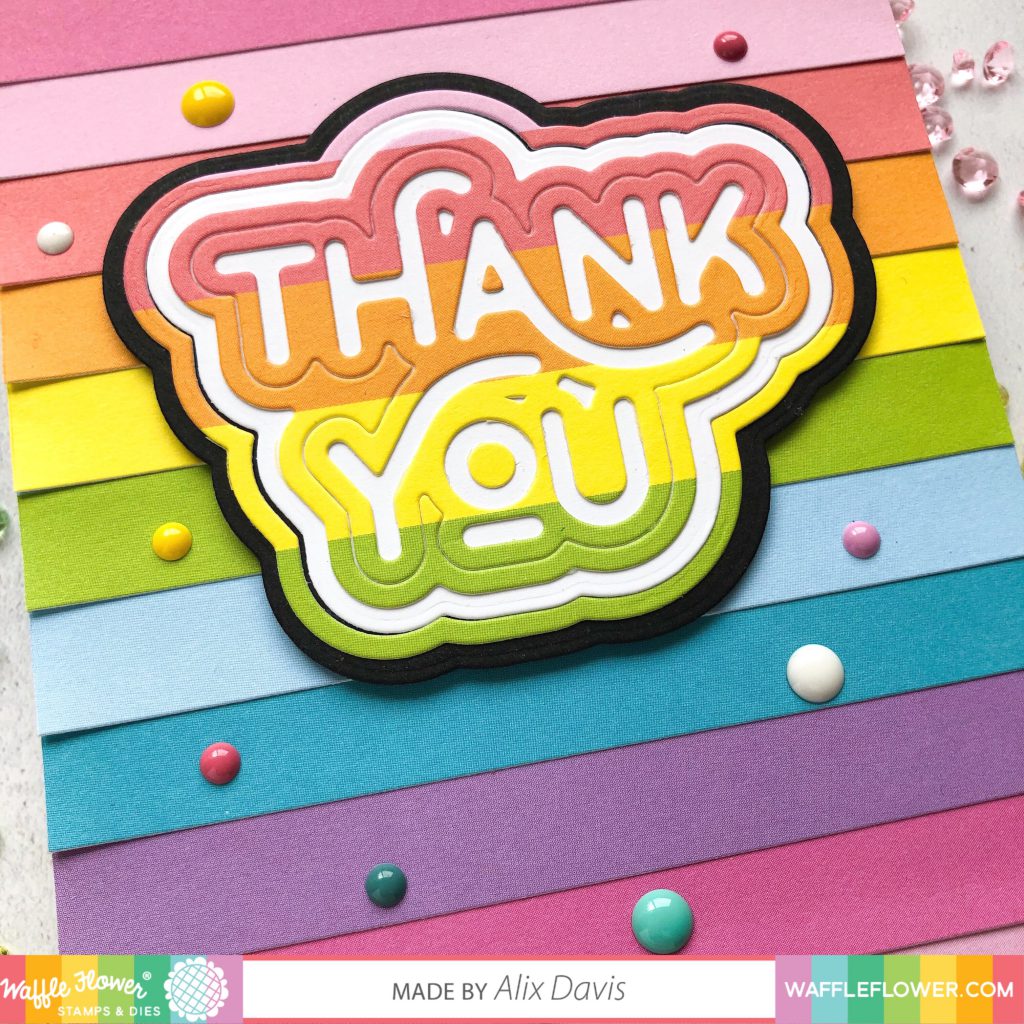 <Card 3>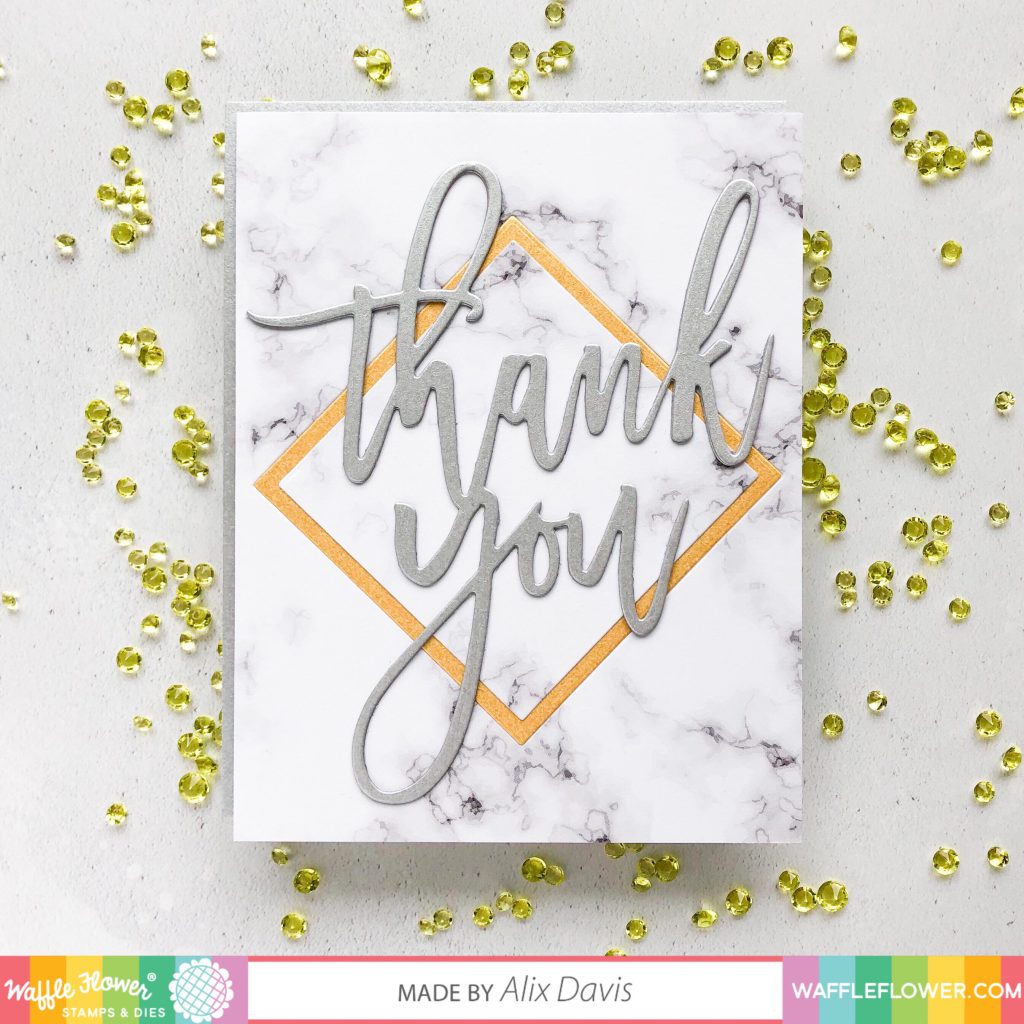 We are turning our focus onto a classic and elegant look now. I chose a piece of granite marble cardstock paper from Modern – Neutrals Paper Pad and cut it into rectangle shape that was slightly smaller than A2 sized card base. I created center inlay piece by using Nesting Squares Die. I cut out my focal sentiment using Oversized Thank You Die out of a piece of silver shimmer cardstock and also attached A2 sized silver card base to match the whole scene. It is just so simple and easy to mass produce piece for you to try.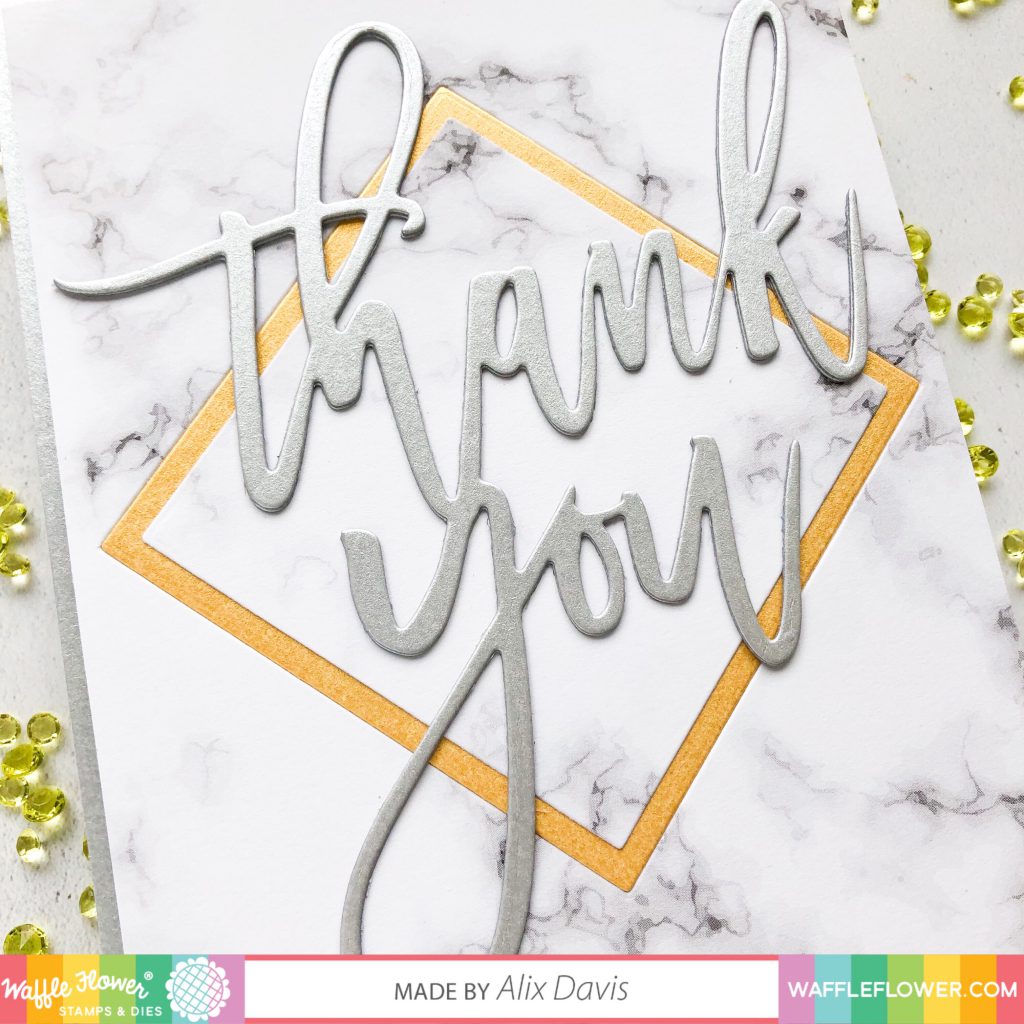 <Card 4>
Half-Half Dots – Botanical Paper Pad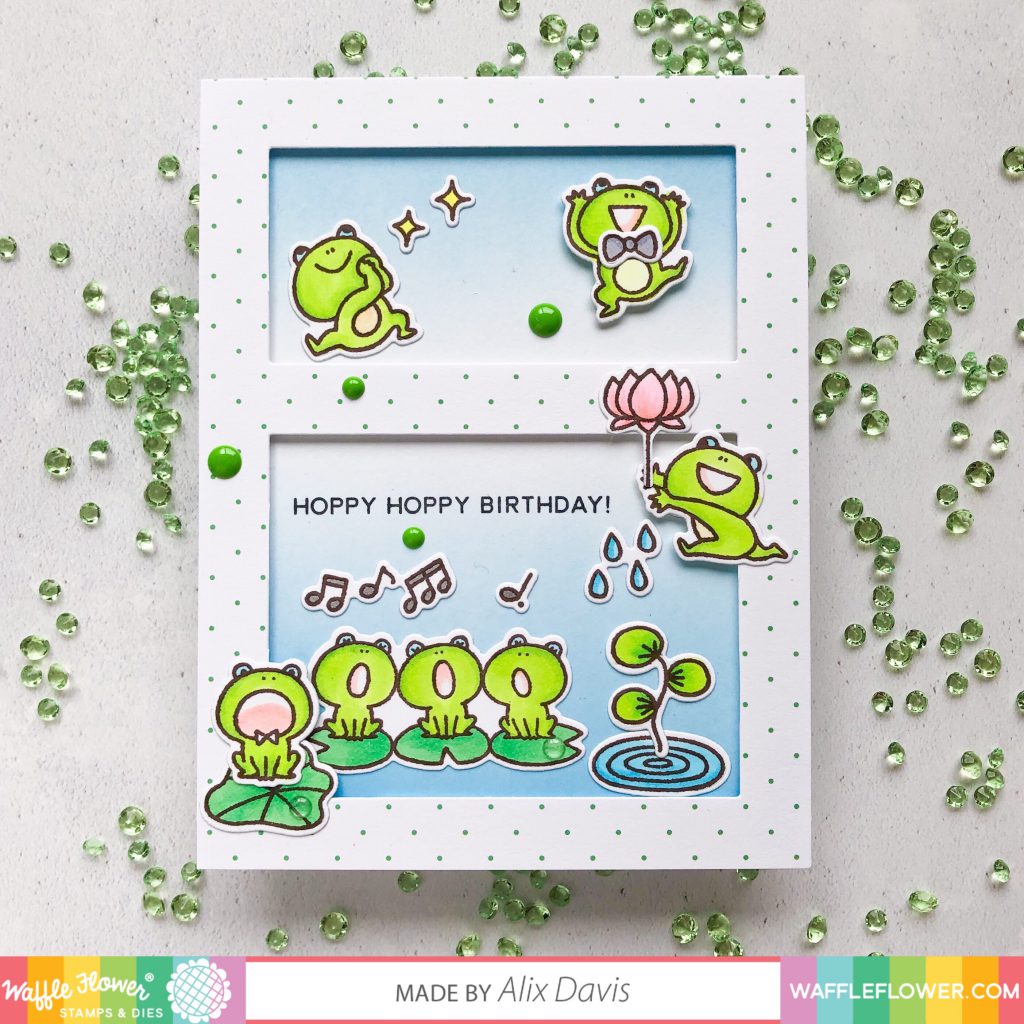 If you joined our last Waffle Flower Top 6 Favorite Blog Hop, you should know how much I love these froggies. I brought them into this blog hop as well LOL. To start with, I cut my upper frame using  Shutters Panel Die out of a piece of cardstock paper from Half-Half Dots – Botanical Paper Pad Then I hand cut the lines between the lines to modify the frame window as I desired. I attached the frame onto a background that I ink blended with Tim holtz distress oxide in Tumbled Glass and Salty Ocean.
I copic color all images from Toadally Stamp set and die cut with the Matching Dies. Then assembled them using liquid adhesive and foam tape onto my background. After I added the sentiment, I scattered some green enamel dots from Up & Running Enamel Dot.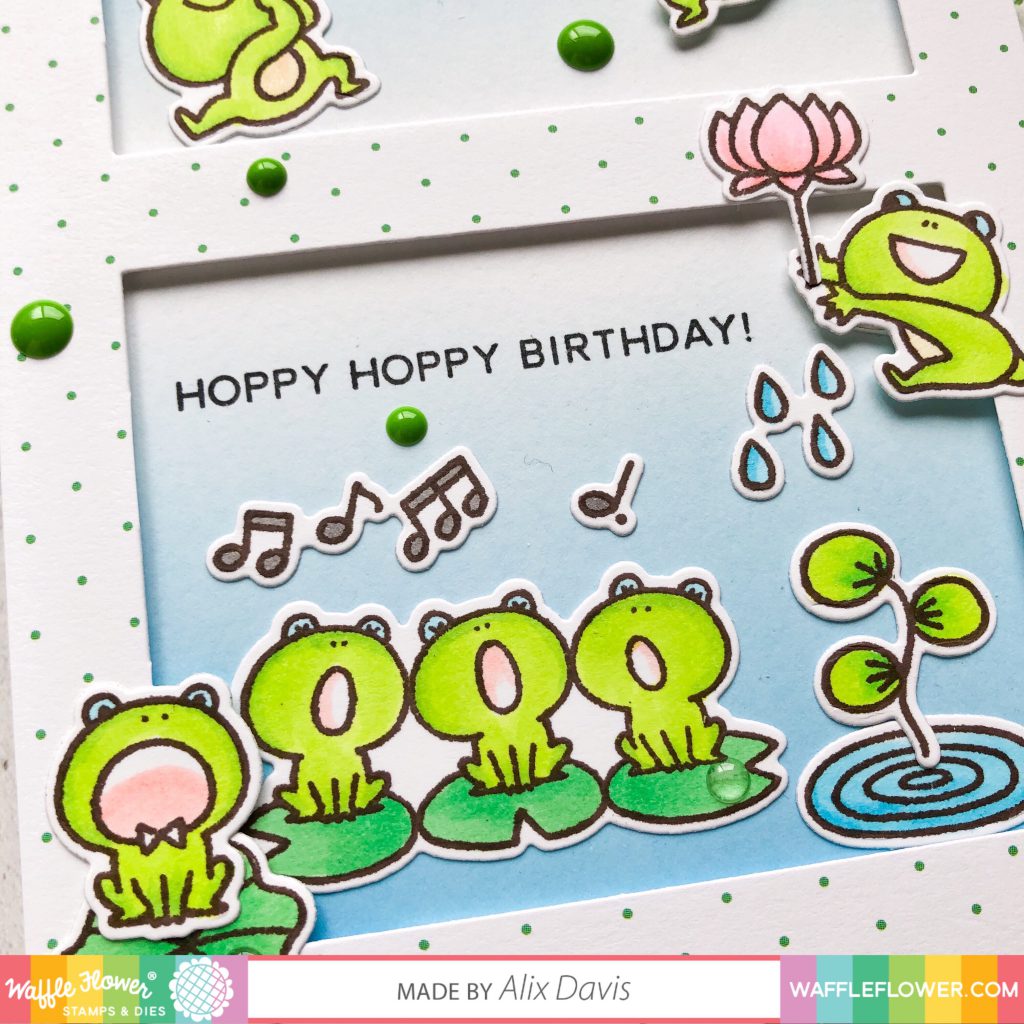 <Card 5>
Half-Half Dots – Unicorn Paper Pad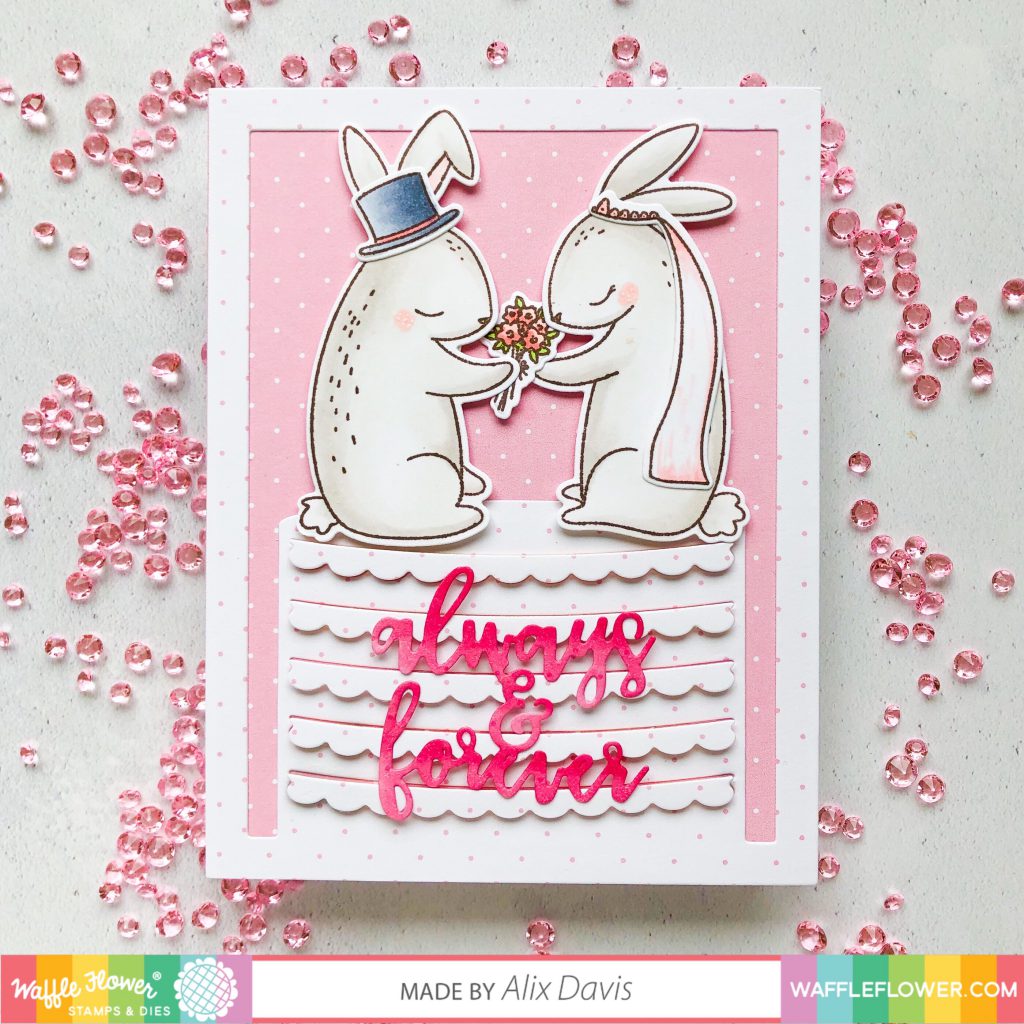 A perfect wedding or anniversary card here for you! I die cut my frame using Cake Panel Die out of a piece of cardstock paper from Half-Half Dots – Unicorn Paper Pad and I attached it onto the solid dotted paper from the same paper pad. I copic colored my selected images from Love You Bunnies Stamp set and die cut with the Matching Dies.  I chose to die cut "always & forever" sentiment from Cake Panel Die and inked with copic markers in two shades of pink. I quickly assembled all the pieces to finish this card.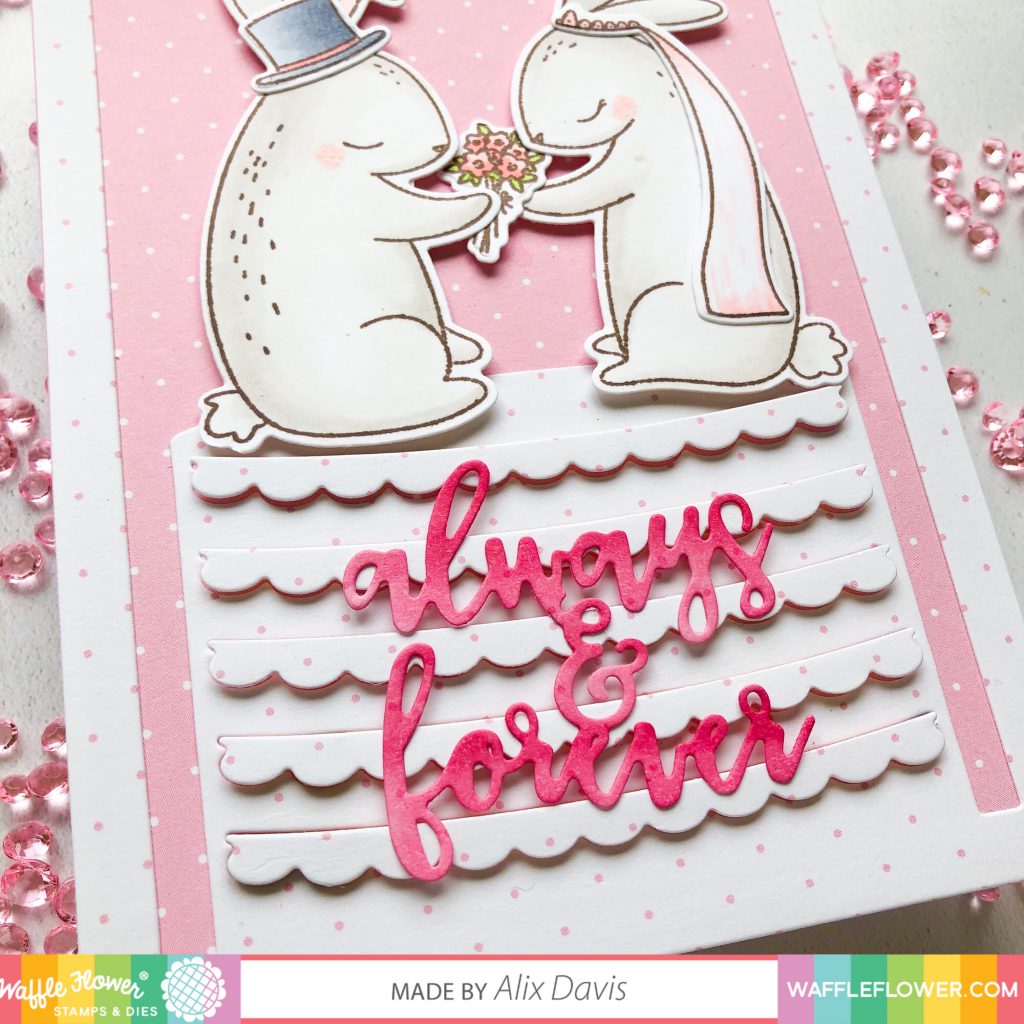 <Card 6>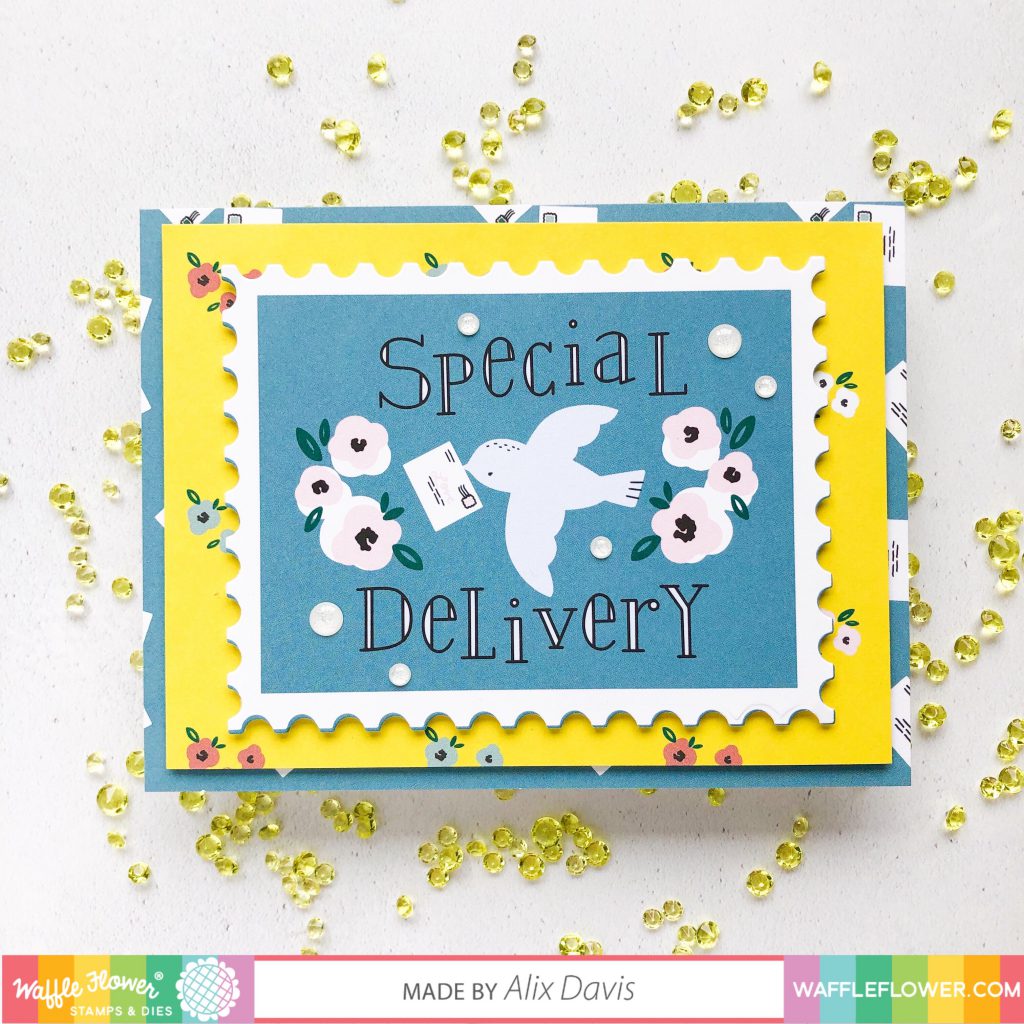 My last card only took me about 10 minutes from start to finish. I used Special Delivery Paper Pad to achieve this look. In my opinion, it is great paper pad for cardmaking starter, scrapbooker or someone who wants to create a dozen of cards in reasonable time frame. I cut out my top layer of card focal image with help of Nesting Postages Die. Then I layered it onto two more layers of rectangle shaped pattern paper. To create dimensions, I added foam tapes to each layer. In the end, I added some enamel dots from Stardust Enamel Dots to make this card a little more special.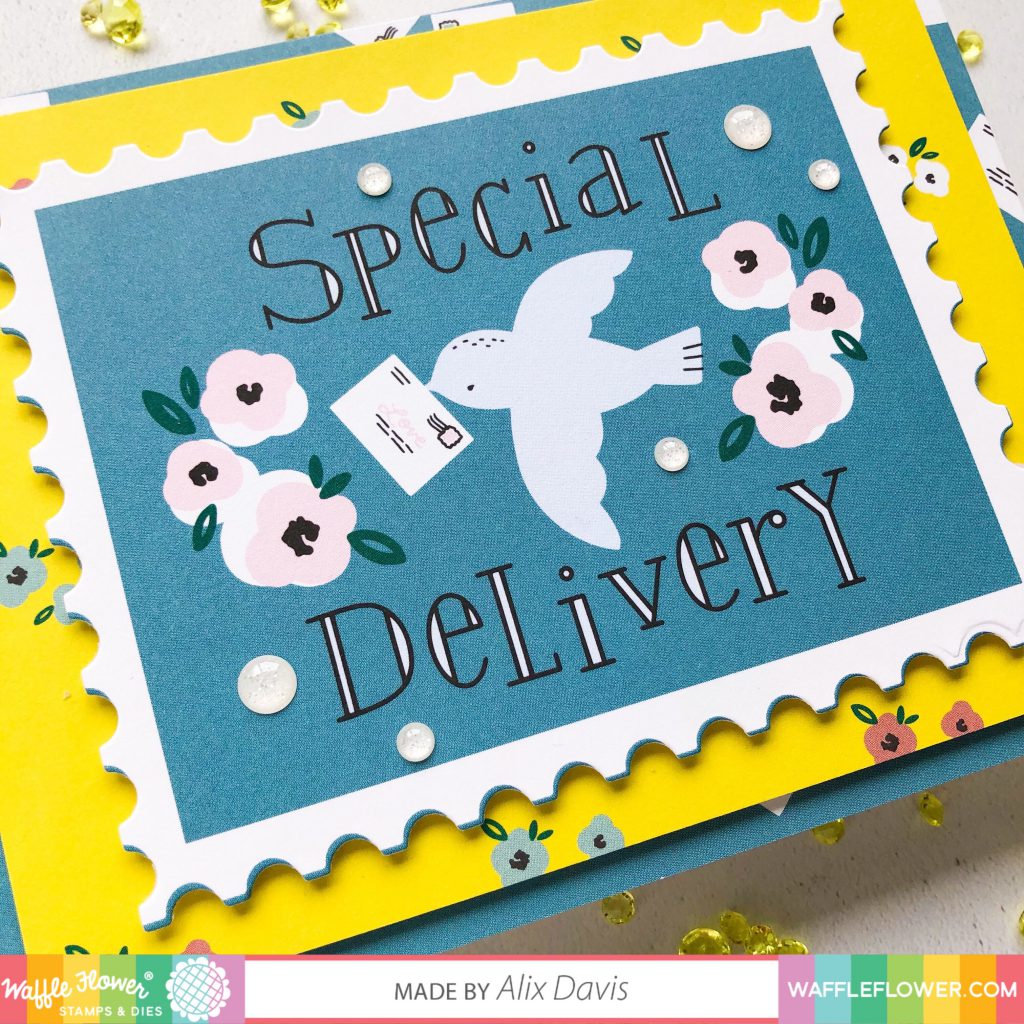 HOP WITH US!!!
Giveaway
For today's hop, Waffle Flower is giving away the entire Everyday Paper Bundle to THREE lucky winners. You can leave a comment on this blog and along the hop by 11:59pm EDT on April 12th, 2020 for your chances to win. Winners will be chosen at random from the comments left on any of the posts in this blog hop and will be announced on the Waffle Flower Blog on 4/15/2020.
Specials
A kind reminder from Waffle Flower:

"We appreciate every order we receive but we also recommend at this time of uncertainties, reserve your resources and use what you have first! Stay positive and healthy!"

From now till 11:59pm EDT on April 12th, all orders at $50 and over, placed at 

waffleflower.com

 will receive a mysterious gift! 

For those of you who are new to Waffle Flower, they have a 

Last Chance

 section on their website that lists many goodies for 25% off until they are gone! This would be a great place to start your collection!