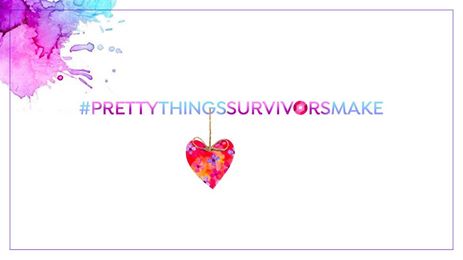 Welcome to our Pretty Things Survivors Do inaugural blog hop! We are glad you're here.
In case you don't know what PTSD is. Here is a little information about it.
PTSD is a "psychiatric disorder that can occur in people who have experienced or witnessed a traumatic event such as a natural disaster, serious accident, terrorist act, war/combat, rape or other violent personal assault." (American Psychiatric Association definition)
Although mostly associated with war veterans, it affects 3.5% of the population and 4% of US children ages 13-18 will experience PTSD in their lifetime. About 8 million adults have PTSD during a given year. (Bran and Behavior Research Foundation)
The holidays are a difficult time for those living with PTSD. We are participating in the blog hop in the hopes that you may be reminded to reach out to loved ones, neighbors, and friends who could be living with PTSD daily. If one person is remembered this holiday season, then we have achieved our goal of spreading awareness. Below you will find different ways you can help those with PTSD.
I am so happy to participate this blog hop so I could let more people know about PTSD and find their ways to overcome it. Now let us talk about this card that I made. To begin with , I stamped Pretty Pink Posh Wild Rose stamp set onto a piece of masking paper and hand cut them out. I was able to build my own bouquet using partial masking technique  I used Tim Holtz distress ink in Antique linen to stamp all images on a piece of watercolor paper for no line watercoloring.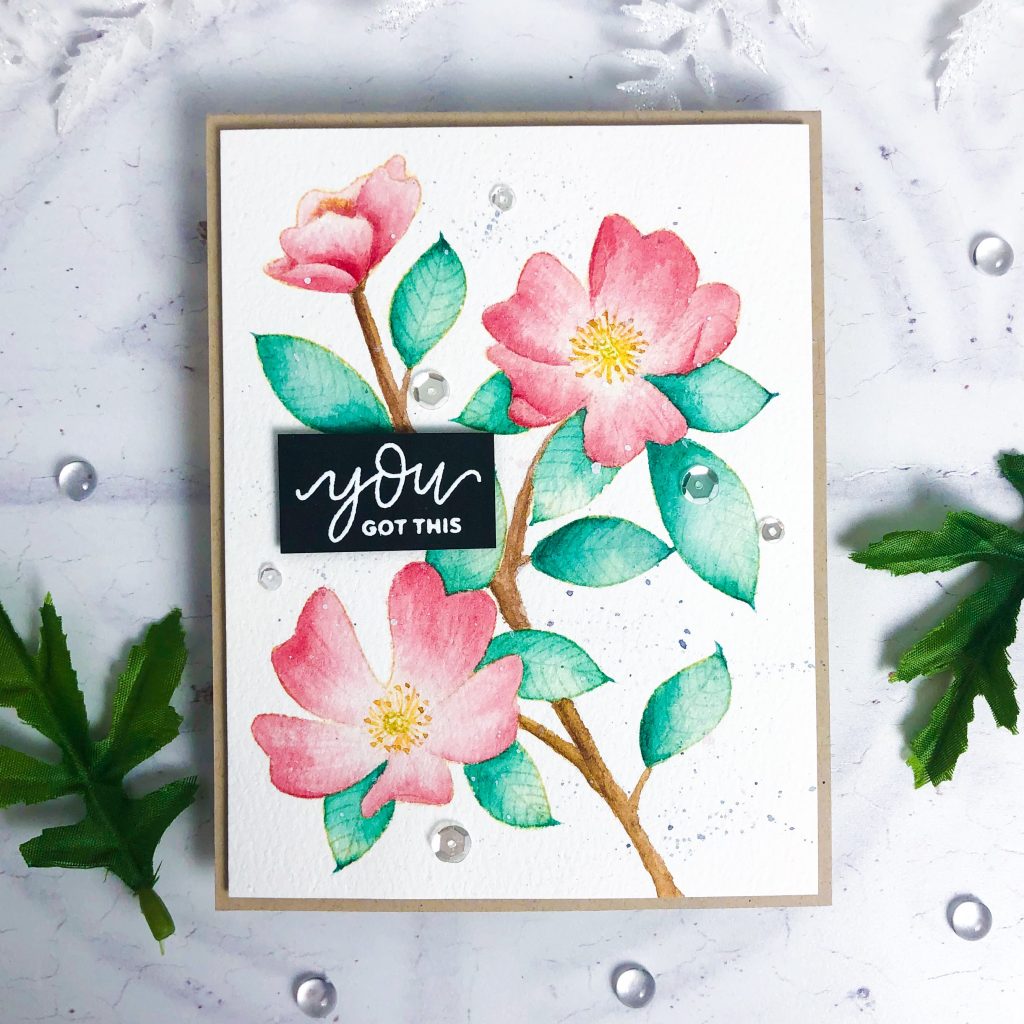 Coloring part was required time and patience which I usually don't have. I used different brands of watercolor paints (Daniel Smith, Holbein and M. Graham) to achieve the colors that I wanted. Once the coloring was done, I hand drew the branch to pull everything together. I splattered white paint and grey paint to make the white background not so boring. I also embellished the background using Pretty Pink Posh 4mm Sparkling Clear Sequins/6mm Sparkling Clear Sequins.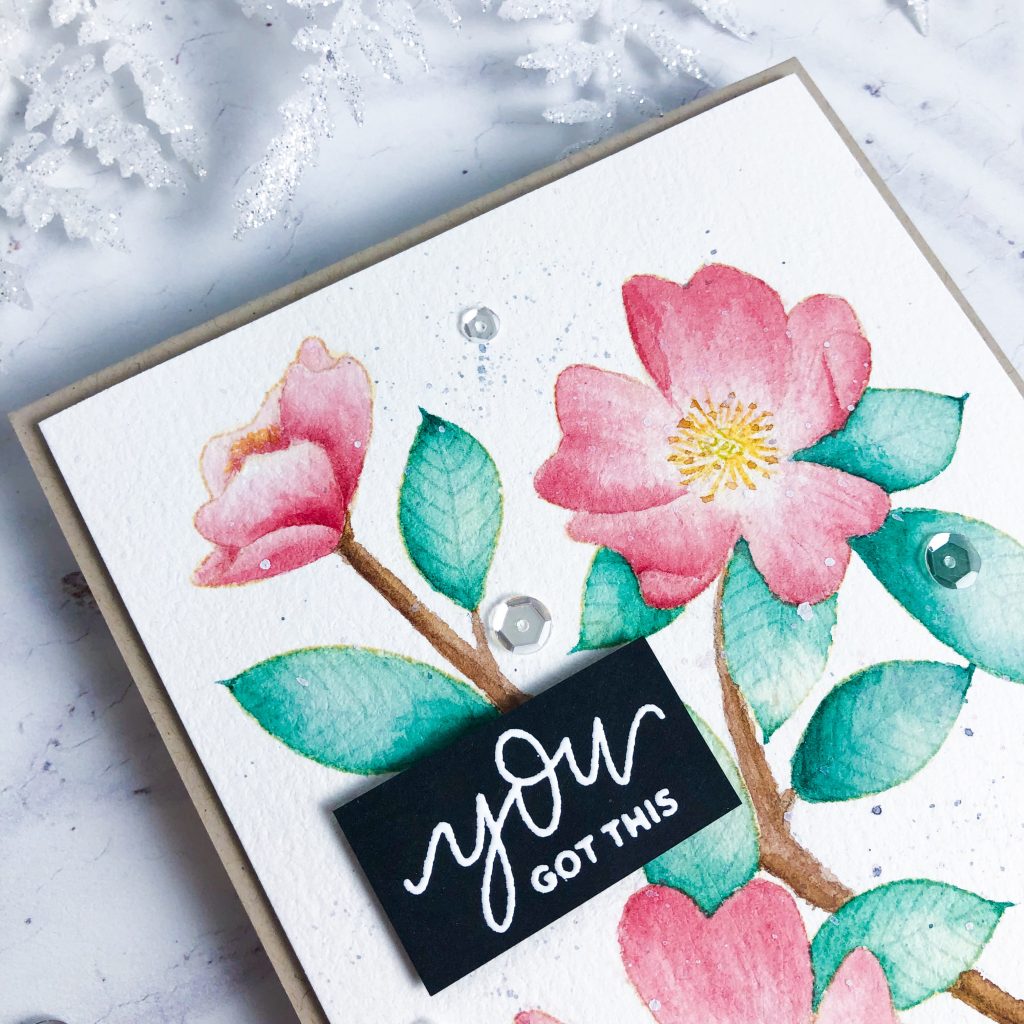 At last, I used the sentiment from Pretty Pink Posh Encouraging Greeting Stamp set to stamp it onto black cardstock using Versamark ink. Then I poured white embossing powder over it and heated to set. I cut the sentiment into desire sized rectangle and attached it with Foam tape onto the background.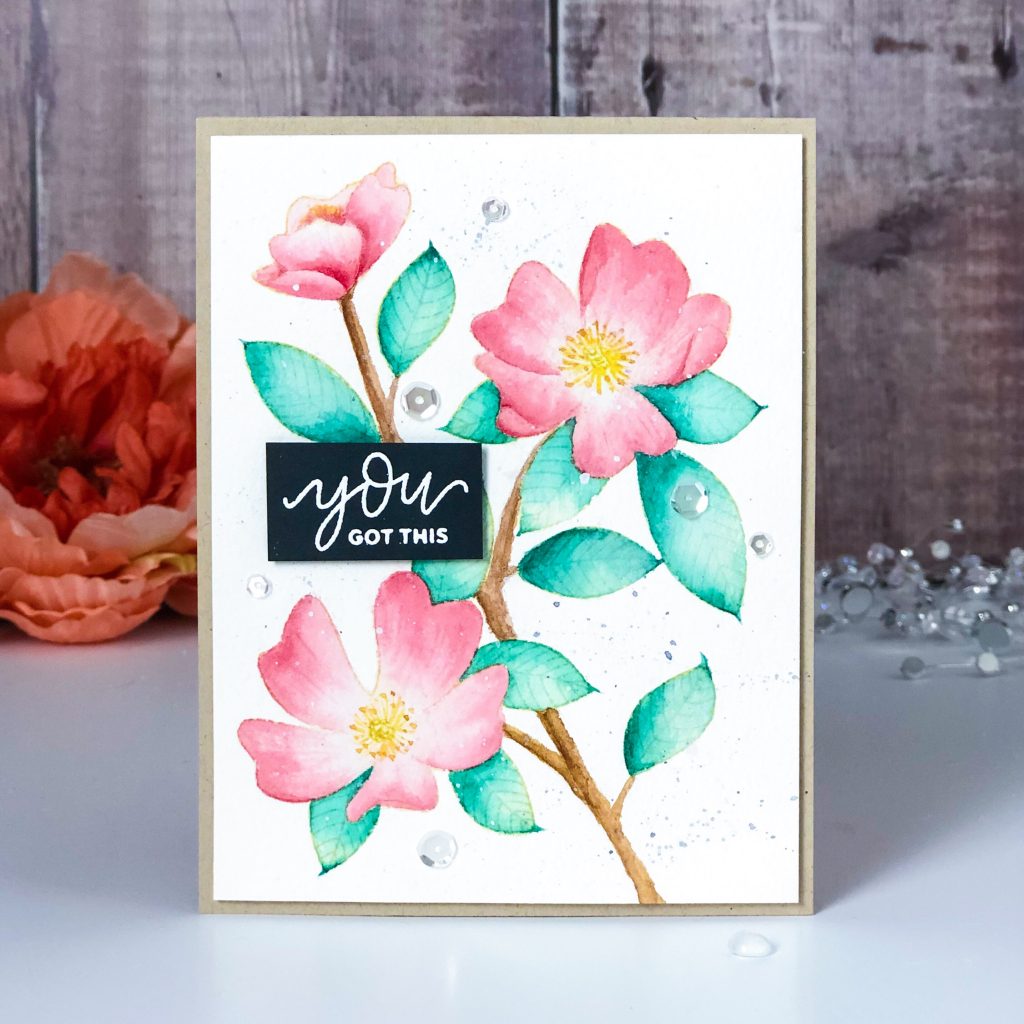 Here's the blog hop list:
GIVEAWAY
Joanne is offering a I Care stamp set on each blog participating. You simply have to leave a comment below and a random winner will be selected by next week. Be sure to visit EACH blog since some of them are offering their own giveaway.
Thank you for joining us! If you know someone who lives with PTSD and would like ways to support them, please visit the following sites and remember to reach out to a neighbor, friend or family member during this holiday season, you could make a difference in their day.
https://www.nimh.nih.gov/health/topics/post-traumatic-stress-disorder-ptsd/index.shtml
https://www.ptsd.va.gov/
https://suicidepreventionlifeline.org/